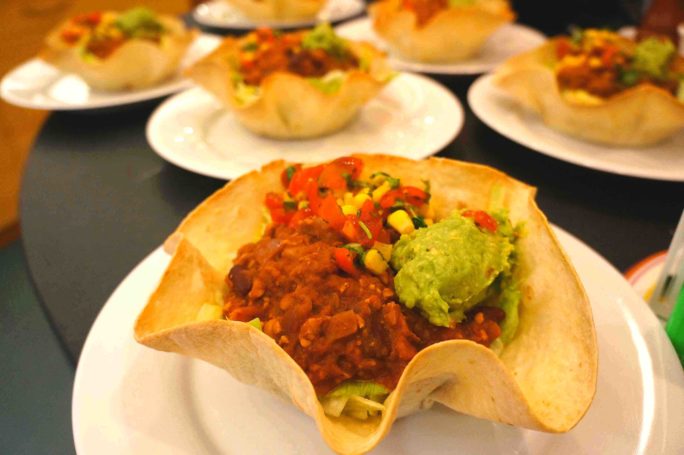 This is a super easy and super fun recipe that is perfect for parties and family dinners alike! Its a really healthy dish, packed with protein as well as the fresh goodness of avocado, homemade salsa and raw veggies. If you are feeling a little naughty and wanting to push the boat out, then deep-frying the 'bowls' is such a special treat, I 'implore' you try the deep fried version at least once in your life – its a winner!
 Taco Bowl Stuffed w Tempeh Molé Negro
6 small soft tortilla wraps
1 packet of tempeh – crumbled up
1 tin kidney beans
1 large onion – fine diced
2 cloves garlic
1 tin of chopped tomato
300g fresh tomatoes – diced
1.5tbs grnd cumin
1.5 tbs grnd coriander
1-2tsp chilli powder (optional)
1-2tbs smoked paprika
2- 3tbs cocao powder
2-3 chipotle chilli's (soaked and finely chopped)
500ml water
1tbs sugar
salt to taste.
Sweetcorn Salsa 

100g ripe tomatoes – fine/medium chopped
100g sweetcorn
1 small bunch coriander – chopped
1/2 small red onion – fine diced
fresh chili to taste (optional)
salt and pepper to taste
Guacamole
2 medium sized avocados
1/2 – 1 clove of garlic – minced
1 medium tomato – diced
1/4 cup fresh coriander – chopped
2 TBS lemon juice
salt & pepper to taste
Crunchy lettuce – gem or iceberg, chopped.
To make the taco bowls lightly oil both sides of your tortilla and then place in a suitably sized heat proof bowl or container (forming a bowl shape) and then bake in a medium hot oven until crisp, set aside. If you're feeling adventurous and like you deserve a special treat you can deep fry the bowls, by getting 2 medium sized frying baskets, placing the tortilla in between the baskets and deep frying them – its a bit of extra work and cost but the results are truly AMAZING!!!
To make the tempeh filling – heat a medium sized saucepan to a moderate temperature and add about 40 ml of oil, then pop in the onion and the tempeh and sauté for 5 – 8 mins, stirring often. Now add in the garlic and cook for a couple of mins and then add the spices and cook for a couple more minutes, adding water if necessary to stop the mix sticking. Now add the other ingredients, except the beans, bring to a boil and then gently simmer for about 15 minutes, until the sauce cooks through. Add the beans and then heat and season to taste.
For the salsa, just combine the ingredients together a stir!
For the guacamole, remove the avocado from the skin and take out the stone, place in a bowl and mash with the lemon juice, garlic and salt and pepper, then stir through the tomato and coriander.
To assemble the bowls – take the taco bowls, place some lettuce in the bottom, then add some tempeh, spoon on some salsa and guacamole and garnish with a wedge or squeeze of lemon or lime and sprinkle of coriander.