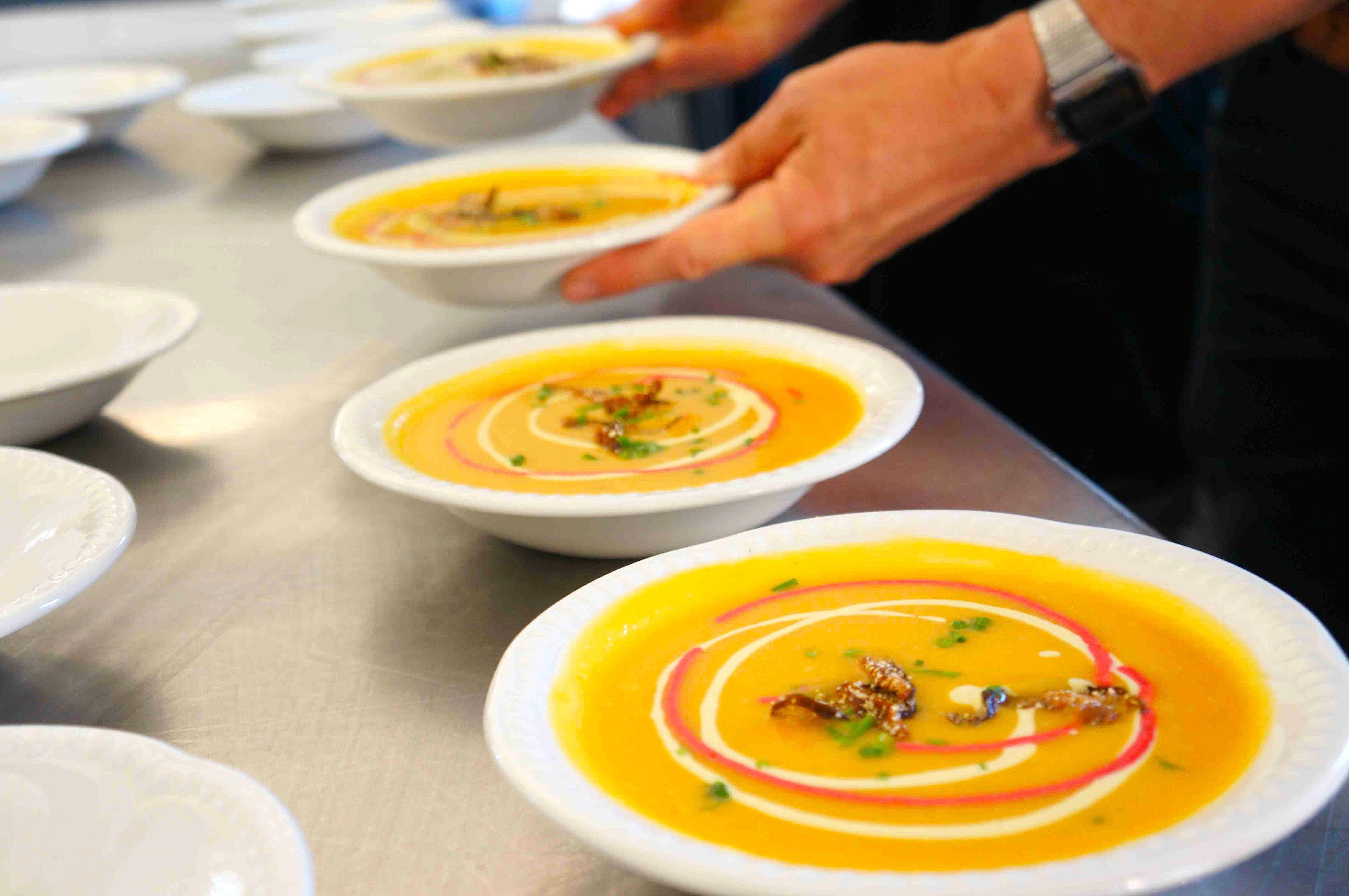 This is one of my oldest and most favourite recipes that I have written and I realised I have never shared it with the world! It earned me a place in the final of the Vegan Society's – Vegan Caterer of the Year back in 2008 and has been a regular feature of our weddings, events and retreats that we have catered along the way. The beauty of this recipe is that it is very simple and reasonably quick to make (the time is taken in the roasting of the veg and not the actual preparation of the ingredients) and it can be something you make as an easy meal for friends and family or 'souped up' (excuse the pun) for dinner parties and entertaining.
The soup is packed with B vitamins and beta carotene and if you add the extra sauces suggested then makes for an all round well balanced meal. You could even boost the protein content with some pre-cooked red lentils.
Butternut & White Miso Soup – (about 4 – 8 portions)
1kg Butternut (or other) squash- cut in half lengthways
2-3 onions
1 cloves garlic
1 can coconut milk
1/4 cup white miso
400 ml water
salt to taste
Roast the squash (rubbed with a little oil) and the onions in medium oven until soft. Then peel all and liquidise with all other ingredients except the miso. Gently simmer for about 20-30mins. Take off the heat stir in the miso, salt to taste (you may well not want any) and serve.
'Asian' Pesto
50g cashews – toasted
15g mint
15g chive
15g coriander
60 ml oil – avoid anything strong tasting (I used a Sussex rape seed oil)
salt to taste – about ½ teaspoon
juice of 1 lime and 1 lemon
1 green chilli – deseeded if preffered
10g ginger
1 tablespoon of water
Place all ingredients, except the cashews, in a food processor and blitz until smooth – now add the cashew and blitz until the cashews are 'breadcrumb' size.
Shitake 'Crisps'
fine sliced shitake (stems removed) – about 2mm thick
(do as many as you fancy – 2 mushrooms is about one portion)
Enough Oil to coat slices
Salt – to taste
Combine all ingredients together and place in a medium oven and roast until crisp, making sure you check them and turn where necessary and take out those that crisp up first, around the edges! Cool and serve.
Ume & Raspberry sauce (makes  8 portions –more than you need but any less won't blend)
1tbs ume plum puree (available in most good Asian food shops or health food shops)
½ cup raspberry (fresh or frozen)
1 tsp agave syrup or similar sweetener
enough water to process
Liquidise and place in a bowl to serve.  
Wasabi & Cashew Cream (makes 8-10portions – more than you need but any less won't blend)
1/2 cup cashew
¾ cup water
1 tbs wasabi powder (or horseradish works just as well)
salt to taste 
Liquidise and place in a bowl to serve.
Now you are all done and ready to serve, start by filling a bowl with the soup, spooning a portion of the pesto into the middle on top of the soup, carefully place some mushrooms on top of this, drizzle some wasabi cream around this and then again some raspberry puree around that.