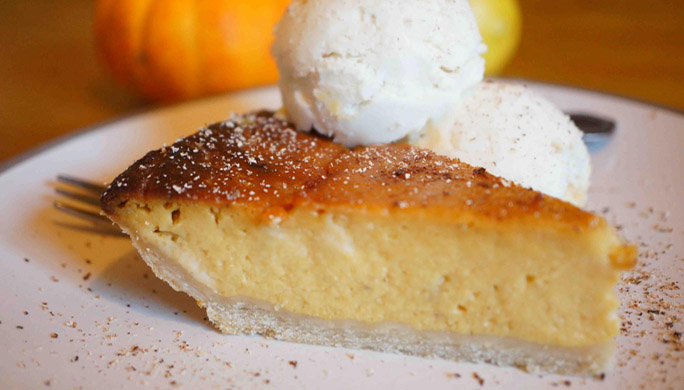 As Autumn is now upon us, the mornings are crisp and the evenings dark – it's time to start thinking about some delicious comfort foods and what better than a seasonal option containing a hefty portion of yummy squash! This recipe is quick, simple and totally packed with nutrition (as far as desserts go) so on all levels is a win win! Enough chat, let's get started!
For the pie you will need:
2 cups of cooked pumpkin or squash (preferably roasted with all charred bits and skin removed)
1 can coconut milk
1 cup cashew
1/2 cup agave syrup or maple syrup for a richer flavour
For the pastry: (this will give you a little extra than you need – use the excess to make 'biscuits' by just rolling it out and popping a chocolate drop or some jam on top and baking it!)
150g plain/pastry flour
40g oil
3-4 tbs water
1/2 tsp baking powder
pinch of salt
Nutmeg for dusting
For the ice cream:
3/4 cup cashews
1 cup water
1/2 cup agave
1/4 cup lemon juice
1 tsp vanilla extract
an inch of fresh peeled ginger – roughly chopped
1. Start by pre-heating your oven to about gm5/360f/180c.
2. Make the pastry by sifting the flour, baking powder and salt into a bowl and then adding the oil and gently rubbing it all together until it forms into a crumb like consistency that come together into a ball easily but fall apart when pinched.
3. Now add the water to bring it together, start with 3 Tbs and then gently knead it in, you need enough water to make it form a workable dough that is not too sticky or too dry – which will always differ slightly as flour absorbs water in different amounts at different times.
4. Ideally leave the dough to rest for about 20 mins before using. When you're ready now roll out your pastry with a little flour to stop it sticking and then place in your pie tin, which is either non-stick, layered with greaseproof paper or covered with a thin layer of grease and flour and trim away any rough edges.
5. Next blitz all your other pie ingredients in a liquidizer until they are smooth and then place in the pie crust, smooth over the top, dust with freshly grated nutmeg and then bake in your pre-heated oven for about 30-40mins, or until golden on top and cooked through. Now comes the tricky part – you can either leave it to stand for a good few hours and it cool down and set or just tuck in immediately…
6. For the ice cream you just need to place all the ingredients into a liquidizer and process until completely smooth, its important that you get this as smooth as possible so get a nice 'creamy' textured finish! Now either pop it into an ice cream churn and process as you would normally or pour into a suitable container and then into your freezer and leave to set – should be about 3-5 hours.
7. Really if you are using a freezer to set the ice cream then its best to make the pie at the same time and then leave the pie to set whilst the ice cream freezes – this way they should be ready at the same time.
All thats left to do now is tuck in!