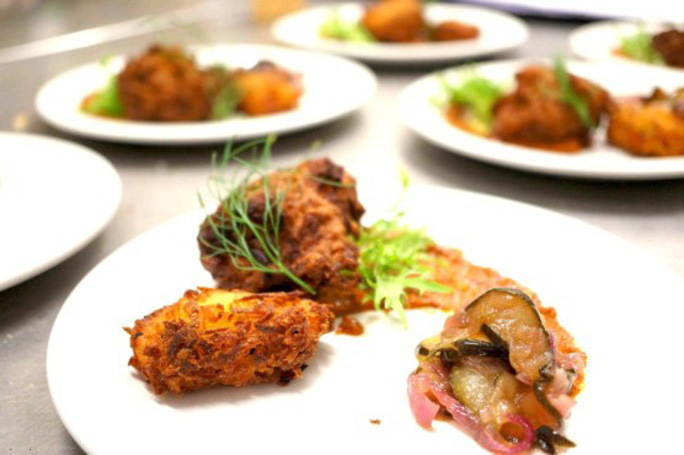 As we quickly approach the festive season and get ready to share some great foods, Christmas 'drinkypoo's' and good old fashioned holiday chit chat – I thought it would be a nice idea to offer up a recipe suggestion that could be used as a starter, part of a buffet or even as a main course….however you decide to serve it one thing I definitely recommend is to give it a try!
The beignet is a traditional French dish that is very popular in the Deep South of America, it is typically a sweet item but this version I have made is savoury – really you could say its a fritter but – come on, beignet sounds way better! This dish is a good example of texture and flavour combination – with the crispy indulgent fried beignet, the rich and deep flavour of the Romesco and then the refreshing and crunchy pickle to finish it all off.
Potato, Ginger & Apple Beignet (makes 12-16)
2 large potato – washed and grated and patted dry
3 large apples – grated and patted dry
3 tbs fresh ginger – minced
2 clove garlic – minced
1 ½ cup gram flour – sifted
1.5 tbs baking powder – sifted
1 cup sparkling water
2 tsp salt
2 tsp nigella seeds
1 tsp chilli powder – optional
Mix together the gram flour, baking powder, salt, nigella and chilli and then make it into a smooth batter by mixing in the water, use your judgment here to make sure the mix is not too thin or to thick. Start with about ¾ of a cup and only add the remaining water if you think the batter needs it, the batter should be quite thick a bit like porridge. Then mix in the potato, apple, ginger and garlic. Heat a suitable amount of frying in a large saucepan – you can either shallow or deep fry.  Now start to fry the mixture by carefully placing spoonfuls of the mix into the hot oil. Turning after a few minutes to ensure even cooking. Fry about 5 at a time, being very careful not to overload the pan, remove with a dry slotted spoon and place onto kitchen roll to drain off excess oil. Repeat the process until they are made.
Salsa Romesco (serves 4)
2 large red peppers – deseeded and roughly chopped
1 large onion – peeled and roughly chopped
½ cup almonds
¼ cup olive oil
1 tbs smoked paprika
salt to taste
2 tbs water
½ small clove garlic – finely minced
Rub the pepper and onion with a little oil and salt and roast in a medium heat oven for about 15 – 20mins, until soft and a little charred. When there is about 5 mins to go on the cooking time add the almonds, so they get about 5 mins in the oven. Remove from the oven, cool and then carefully blitz all the ingredients in food processor so they become a thick sauce with a little texture to it (ie not quite smooth), season to taste.
Pickled Cucumber
1 small cucumber – thinly sliced
1 small red onion – thinly sliced
2 tbs oil
¼ cup (white wine) vinegar
salt & sugar to taste
Heat a medium sized saucepan to a medium heat and begin to fry the onion with the salt for about 5 mins until translucent, stirring and adding water to stop it sticking if needs be. Then add the vinegar, bring to the boil and add the cucumber and simmer for about 4-5 mins, until the cucumber becomes soft but still has some crunch. Add more salt if needed and a little sugar to taste and either serve straight away or cool and store.
Now just bring it all together by plating up and serving!
Happy Christmas to one and all from Cashew xxxxx