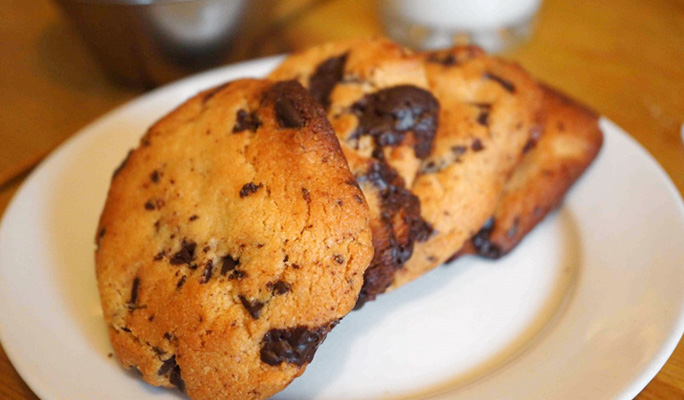 I've had this recipe on file for a little while now and have played around with it often and came up with this other day, which definitely took it to another level!! These are super simple to make and in fact have a great protein content and generally great ingredients – which means more yummy guilt free treats for us all to enjoy!! What more could you want? These really truly are exceptionally good – rich, moist, slightly cakey and generally delightful!!! The key is to cream the fat and sugar first and not over bake them – get that right and your cookie jar will glow!
Ingredients:
2 cups almond flour/ground almonds

1/2 cup gluten free plain flour blend
1/4tsp baking soda
100g coconut oil/butter or you could use 90ml vegetable oil

1/2 cup agave or you could use sugar which would work well if using oil
1 cup good quality dark chocolate  – cut into small pieces
1/4 tsp almond extract
1. Pre-heat your oven to  gm5/190c/375f.
2. Start by creaming together the coconut fat and agave, it helps if the fat is at room temp to get this done easily – I use a masher to get the fat softened quickly if its a little hard? Then you can just mix in all the other ingredients to form a fairly firm dough.
3. Now just form the dough into about 10 large-ish balls and gently flatten them out onto a baking tray (don't worry too much about greasing the tray as the cookies shouldn't stick or burn).
4. B
ake for about 8-10mins until they are golden on the outside, remove from the oven and allow to cool a little and firm up before serving – alternatively just dig in!