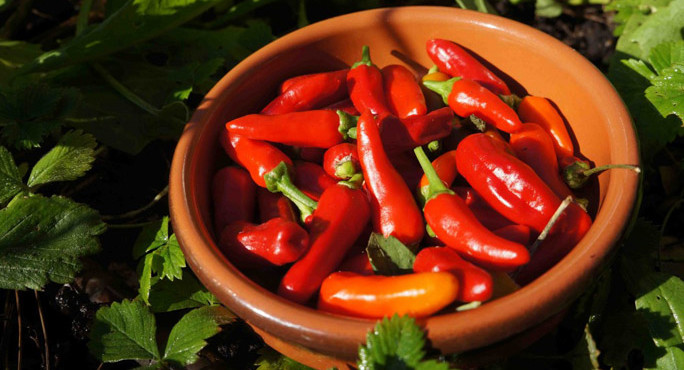 So it appears that summer has finally given up here in chilly Blighty and now the cold days and nights are starting to creep in! It's this time of year that a large selection of extremely spicy condiments is very helpful for making sure that we stay warm from the inside out – plus its fairly well known that vast amounts of chilli, garlic and ginger etc is great for fighting off all the nasty bugs that are out and about, trying their hardest to fill us full of snot! Its also this time of year that if you grow your own then you likely have an abundance of delicious chillies all needing a good home and if you don't your local farmers market definitely do!! So I thought I would put together a quick recipe for a delicious spicy condiment that makes everything from Sunday roasts to simple oatcakes and avocado seem that little bit more special.
Ingredients
1 large onion – fine dice
1 bulb garlic – minced
50g hot chilies – or mild if you prefer – rough chopped (seeds left in)
500g sweet peppers – I used mini ones but you can use whatever you like – deseeded and rough chopped
500g apples – cored (leave the skin on) and small/medium dice
1 mango – skinned and small dice
100ml vinegar – whatever you've got will work fine
1-3tsp sugar (optional and depends how hot you like the sauce, the sugar will take the edge off of the initial heat blast and helps round the sauces overall flavour)
2-3 tsp salt – to taste
1 tsp powdered ginger
1 tsp powdered coriander seed
a bit of water to stop the pan from sticking and burning
about 100ml cooking oil
4 small (about 250g) clean jam jars (with lids!)
Ok, so now you've got all of your ingredients lets get saucy!!
Heat a medium sized saucepan to a medium/low temperature and add the oil and then the onions and the salt (2 tsp at this stage) – let these cook gently on a low heat for about 5 minutes stirring frequently and adding water to stop it sticking if needs be. Now add the garlic and vinegar and continue to cook on low for another five minutes, again stirring to make sure it doesn't stick. Next add the ginger and coriander and cook for a couple of minutes. Now add the chilli and sweet pepper, turn up the temperature a little and bring to a gentle simmer and continue to cook for a about 8 minutes or until the sweet pepper has softened. Now add the apple and mango, water if you need a little and pop the lid on and simmer gently for 10-15 minutes – until the apple has disintegrated into the mixture, keeping an eye on it to make sure it doesn't stick or burn.
Whilst this is going on put your oven on to a low setting and carefully place your clean jam jars plus lids into the oven to sterilise for about 10 mins, or until they are hot to the touch (taking care not to actually burn yourself) and remove them carefully with a tea-towel or oven gloves and place them on a tea towel on your table/work surface, DO NOT put them anywhere very cold or run cold water on them if you are tempted as this is likely to cause them to smash.
Now whilst the jars are in the oven the sauce should have finished cooking, so just quickly whizz it up with either a stick blender or in a liquidiser to give a smoother consistency, I prefer it left still a little chunky but you can make it as smooth as you like? At this point give it a taste and stir in any sugar you may want and salt if you think it needs it?
Now all you do is carefully spoon the hot mixture into the jars, to the top and seal them with the lid (you can add a circle of greaseproof paper on top of the sauce before the lid to help keep air out of the mix but I have to be honest and say that I don't worry about this – I know the sauce just isn't going to last very long at my house but if you want to try and store them long term this can help!!!)
This makes an ideal gift for someone and with Christmas around the corner, why not start now and make a batch of this and put it into lots of little jars and give them to friends and family as gifts. You could perhaps try using different types of chilli and or different fruits, vegetables & spices in the mixture to make a set of sauces, as a really quite awesome homemade gift! Enjoy ………… xxxx