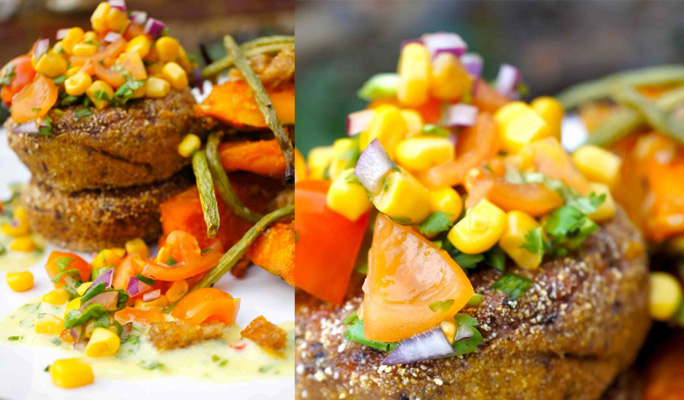 Inspired by Thanksgiving this meal is perfect to make when celebrating the company of good friends and toasting the past, present and future! The meal encompasses the ancient American Indian tradition of The Three Sisters, an agricultural technique used for companion planting sweetcorn, climbing beans and squash. This technique allows the beans to grow up the stalks of the corn – so no need for poles, the beans produce much needed nitrogen in the soil that the squash and corn thrive off and the squash grow on the ground, acting as a mulch for retaining ground moisture and blocking ground sunlight. Better than that and even more importantly the corn and beans combine together to create a complete protein and the squash provides vital carbohydrates in the form of delicious sugars and hefty starches. On top of all that, they work perfectly on the plate together – so all in all a pretty clever system!
Serves 2-4 (2 large portions as a large meal on its own or 4 portions as starters or as part of a large meal)
Black Bean Burger Recipe
1 can black beans – well drained
2 cups cooked brown rice
100g walnuts (or similar) gently toasted (optional but helps gives a little oomph)
2 tsp salt (unless you use salted beans, in which case use 1tsp first and only add more salt at the end if it needs it)
3 tbs nutritional yeast flakes
1 tsp dried thyme or similar
2 cloves garlic – minced
½ cup masa-meal or cornflour (ground corn not corn starch)
1 tbs English mustard
1 tbs tomato paste
polenta for dusting with and oil for shallow frying
Roasted Squash & Green Beans w Breadcrumbs, Chilli & Garlic:
1 small dense & tasty squash of about 750g-1kg (crown prince is my favourite) – peeled and deseeded
2Tbs cooking oil
pinch of salt
250g fine green beans – topped and tailed
100g stale bread (preferably sourdough) – cut and or broken into chunky breadcrumbs (leave this out for a gluten free version)
2-3Tbs Extra Virgin Olive Oil
3 cloves garlic – minced
3-4 birds eye chilli – minced (optional)
salt to taste
Sweetcorn Salsa
100g ripe tomatoes – fine/medium chopped
100g sweetcorn
1 small bunch coriander – chopped
1/2 small red onion – fine diced
salt and pepper to taste
Coriander Aioli
3tbs soya milk
1 Tbs extra virgin olive oil
1 Tbs lemon juice
1 Tbs English mustard (or similar)
2Tbs fresh coriander – fine chopped
2 birds eye chilli's – optional
salt and pepper to taste
Preheat your oven to about gm6/400f/200c.
To make the burgers then place all the ingredients (except the beans) into a food processor and process until more or less smooth, then add the beans and process until they are combined but not smooth so you have a few 'beany bits' left in there. Form into 4 large-ish patties, dust with little polenta (not essential but stops them sticking in the pan) and now set aside.
Next cut the squash into rough large chunks and toss with the oil and salt, place in a large roasting tray and pop in the oven. Cook this for about  15 mins. Whilst its cooking combine the breadcrumbs (if using), green beans, olive oil, salt, garlic and chilli (if using) in a bowl making sure the oil is well distributed. Now just put all of this on to the roasting tray with the squash, straight on top is fine and continue to cook for about another 20-30 mins until the squash is soft, the breadcrumbs are golden and beans just slightly charred!
Make the salsa next by combining all the ingredients together in a bowl and set to one side.
Make the aioli by adding the milk and olive oil in a bowl together and whisking until combined, next add the lemon juice, which will make the milk mixture curdle and therefore thicken. Now whisk in the other ailoi ingredinets and set this aside.
Pre-heat a large frying pan, add about 75-100ml of cooking oil into the pan and shallow fry the burgers on a medium/low heat for about 3 mins on each side and now just plate up and serve.
All done and ready to serve…………Happy Thanksgiving!